There's nothing like trying to go to sleep and feeling so stressed out that you can't turn off your brain. How can one go to sleep when they're stressed? The good news is that there are several things you can do to help decrease your stress levels so you can get the type of sleep your body deserves. Here are some tips for your sleep:
Don't be afraid to use supplements
Sleep supplements can be very helpful when you're having a really tough time falling to sleep on a regular basis. There are plenty of natural options out there that you can buy at your local pharmacy or others for which you can get a prescription from your healthcare provider. CBD supplements and CBD oil are also known to help decrease stress and anxiety, allowing you to feel relaxed and get to sleep.
Practice relaxation techniques
It can be challenging to transition from everything you have to do and the thoughts on your mind to a state of relaxation—especially when things are very stressful. However, it can be easier to "turn off your mind" and "trick" your body into becoming stress-free with the proper relaxation techniques.
This could look like a short yoga session before bed or practicing meditation to calm your mind for better sleep. Whatever works best to calm yourself for a relaxing evening, do that.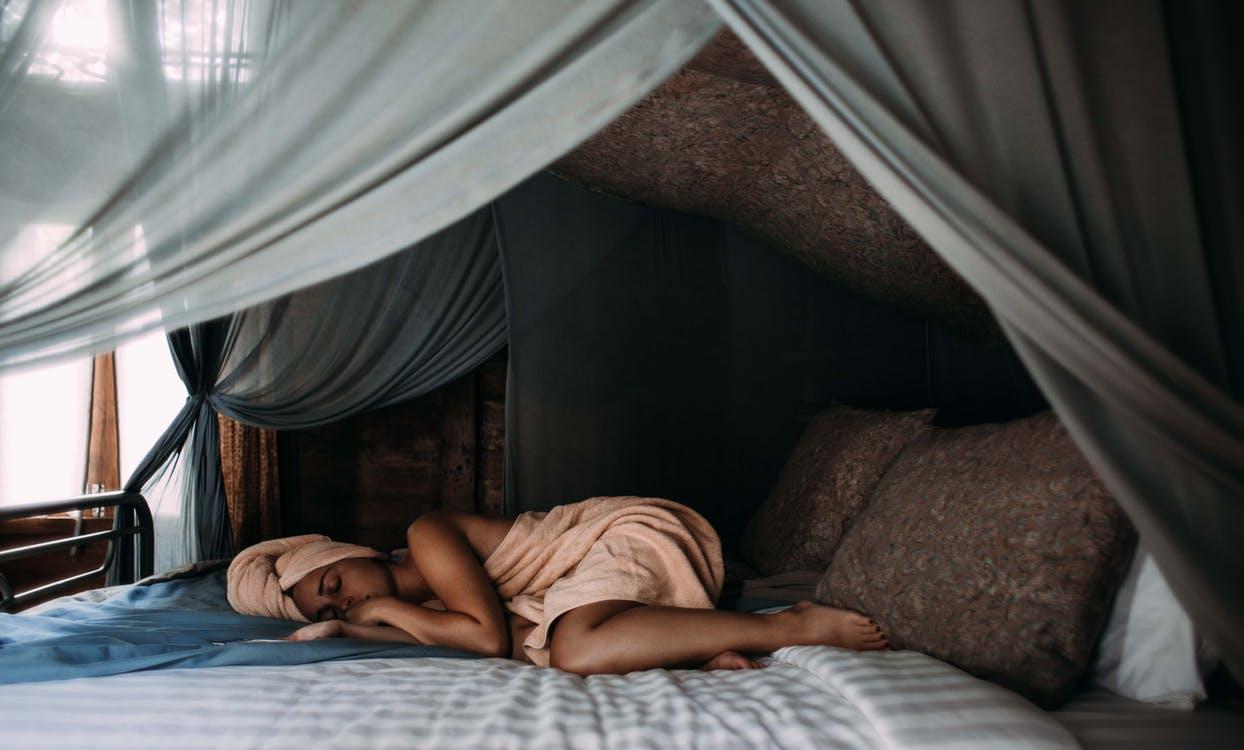 Take a hot shower before bed
A hot shower can be one of the most relaxing things you can do for your sleep. It could be a bath as well, with a bath bomb included to help your muscles relax. Whatever the case, a hot bath or shower can help your body unwind, which in turn can ease tension and any anxious feelings you may have.
Whether a glass of wine accompanying your bath helps you wind down or listening to your favorite music as you shower is the way to go, make it an evening routine to help you leave stress behind for a relaxing, restful night.
Enjoy a book before bed
We typically like to watch TV before bed, but the blue light can make it hard for us to get to sleep. Additionally, it's not always that easy to forget the stress on your mind unless the movie happens to be incredibly riveting.
Instead, consider picking up some in-depth reading so that you can get your mind off of your stress and onto what you're reading. Fictional and motivational books typically help to distract your mind when they're especially interesting, but whatever works to get your mind off of stress, that's what should take place on your nightstand.
Exercise regularly
Releasing tension through exercise is another excellent way for you to relax so that when it's bedtime, you're tension-free. Whether it's a run in the morning, playing soccer, or lifting weights at the gym, moving your body on a regular basis can go far in helping you to sleep better when you have a lot of stress in your life.
In Conclusion
It's extremely important to get enough sleep when you're dealing with stress, as a lack of sleep can increase tension. Good quality sleep can help you have the energy and focus to tackle overwhelming things.
Whether you start by taking hot showers before bed every evening or you incorporate an exercise routine into your daily activities, there are some things you can do to help release the stress that could be impacting your life. The better you sleep on a regular basis, the easier it will be to handle anything that comes your way.