This article showcases our top picks for the
Best Environmentally Friendly Coffee Machines
. We reached out to industry leaders and experts who have contributed the suggestions within this article (they have been credited for their contributions below). We are keen to hear your feedback on all of our content and our comment section is a moderated space to express your thoughts and feelings related (or not) to this article 
This list is in no particular order.
This product was recommended by Norbert Koput from EspressoBear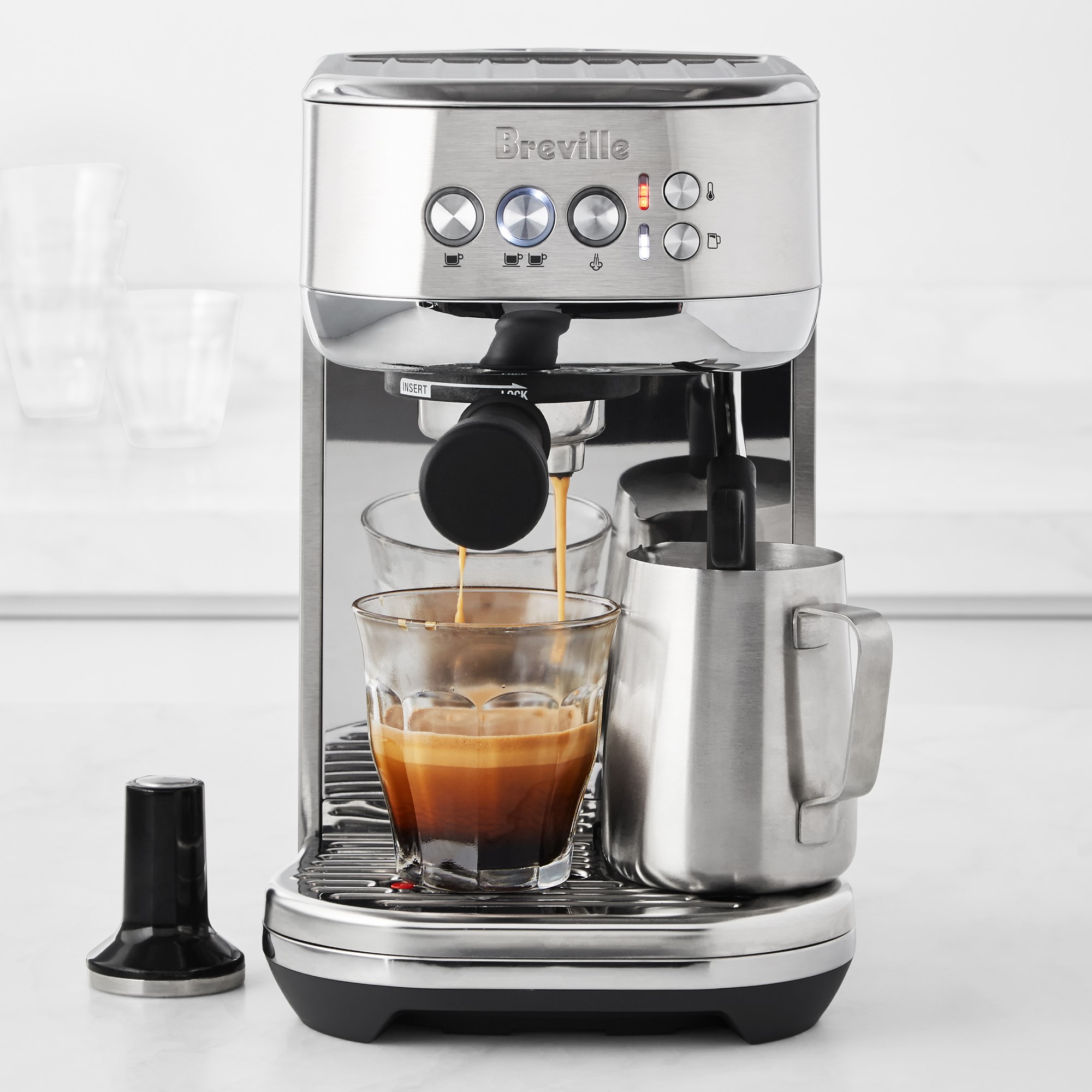 I highly recommend the Breville Baminbo Plus as an entry-level espresso machine because it is user-friendly and can output fantastic espresso. It is currently part of my at-home setup, and I can vouch for the quality as I have been a daily user for over three years.
---
This product was recommended by Marko Lazarevic from Craft Coffee Spot
The Nespresso VertuoPlus is my choice for the best environmentally friendly coffee machine. It's small, compact, and uses only 1300 watts of power, so it has a low environmental footprint. What I like most is the Nespresso pods are recyclable. Nespresso includes a biodegradable bag with orders, which you can fill and drop off at thousands of locations nationwide, including any UPS store. Nespresso Vertuo is the latest type of Nespresso machine that makes great coffee with one button.
---
This product was recommended by Sudhir Khatwani from The Money Mongers
Secura French Press Coffee Maker is one of the best environment friendly coffee makers out there. This one does not require paper filters. Instead, you can use coffee grounds and hot water to prepare your coffee. Also, it does not require electricity to run. The coffee maker is made out of 18/10 stainless steel and comes with a 3 layered stainless steel filter structure. It is designed to trap the smallest coffee grounds to produce amazing bodied flavor. Also, it features a bonus stainless steel screen that is easy to disassemble and clean. You can stack one or more screens together to get the best refined taste. Plus, it can produce about 1000ML of coffee in a single time, which should be good enough for two people.
---
This product was recommended by Matt Marshall from Coffee Witness
This is my go-to coffee maker as it is very programmable and convenient. You have an option to brew only 1-4 cups, allowing you to save both water and energy. The taste of this setting is similar to its full pot of coffee which, no doubt, impressed me as not many coffee makers are capable of making great small batches. Another favorite feature of mine is the Brew Pause, this feature allows me to grab a coffee before the cycle finishes. This helps me a lot when I am in a hurry or I just really can't wait to drink coffee. This coffee maker has lots of useful features and is reasonably priced. Explains why this is one of the most popular drip coffee makers in the market.
---
This product was recommended by Jed Silverlake from Home for Beginners
They described themselves with one word – Sustainability The machine has a heat-insulation outer shell that minimizes electricity consumption to brew the coffee. They claim to save customers 8% of total machine use. It has a water filtration system that conserves water and reduces energy consumption. Despite its many environmentally friendly features, the Eagle One is still a high-quality coffee machine that can produce delicious coffee.
---
This product was recommended by Lara Hartog from The Best Travel Gifts
The French coffee press is one of my favorite ways to make a good cup of coffee for two reasons. First, coffee from a French press is simply delicious, the coffee tastes rich and more robust than your regular filter coffee. But the second reason why I highly recommend a French press to anyone is the fact that it's one of the most environmentally friendly coffee maker out there. A French press doesn't need any electricity; all you need is ground coffee and boiling water let it sink in and then gently press the plunger for a flavorful cup of coffee. As you can see, the only three things you need are the French press, water, and coffee. You don't need any one-time use cups, pads, or filters. The filter is built in the press, which means you will produce less waste by using a French press instead of any other coffee machine.
---
This product was recommended by Mary Hunderson from Themeple
The Smeg 50's Retro Style Aesthetic Drip Filter Coffee Machine is the best environmentally friendly coffee machine because it is made with recyclable materials and it does not have a digital screen that uses up unnecessary energy. This coffee machine is made with a retro-style aesthetic that will look great in any kitchen. It also has a stainless steel finish that will resist rust and corrosion. But, the best part of this coffee machine is that it is environmentally friendly. It is made with recyclable materials and it does not have a digital screen that uses up unnecessary energy. This means you can use this coffee machine guilt-free, knowing that you are not harming the environment. So, if you are looking for an environmentally friendly coffee machine, the Smeg 50's Retro Style Aesthetic Drip Filter Coffee Machine is the best option. It is made with recyclable materials, does not have a digital screen, and will look great in any kitchen.
---
This product was recommended by Michael Baldicaña from Stayyy
This is the newest addition to Keurig's lineup of single serve coffee makers. This machine comes with an integrated milk frother that can make cappuccinos and lattes in seconds. The machine also has a dishwasher safe carafe for easy cleaning. It allows you to brew 6 cups before having to refill, saving you time and simplifying your morning routine. It has a programmable auto off feature that automatically turns your brewer off 2 hours after the last brew for energy savings.
---
This product was recommended by Chris Clark from Brew Coffee Home
Cold brewing is the most environmentally friendly brewing method since it doesn't consume as much energy as other electric coffee makers. What's more, it can brew coffee with room temperature water, you don't even need to heat the water. This Mason jar-style cold brew maker by Zulay is plastic free. You can further reduce the waste thanks to the reusable stainless steel mesh filter since you don't need any paper filter. All you need to do is to pour ground coffee inside the filter and steep it in cold water for 18 hours or so. This produces a smooth and balanced jar of cold brew coffee that stays fresh for 2 weeks if you keep it well in the fridge. It comes with a tap so you can dispense the coffee effortlessly whenever you want to enjoy a cup of joe.
---
This product was recommended by Heather Calatrello from ShedLight Coffee Roasters
Our pick for an environmentally friendly coffee machine, and frankly our go-to most days, isn't technically a coffee machine at all. The Chemex pour-over coffee maker produces an exceptional cup of coffee and uses zero electricity to brew. This manual coffee maker is the perfect combination of form and function; it looks gorgeous on your kitchen counter and has little impact on the environment, especially when used with a reusable filter instead of paper. A stainless steel cone or organic cloth filter both work well with Chemex. The classic Chemex brewer is available in several sizes, but we recommend the largest 10-cup size as it allows for versatility in brewing. Brew for a crowd or just for one. We have tested countless coffee machines and returned to Chemex time and time again. The clarity and depth of flavor produced are far superior to anything we've tasted from a traditional drip coffee machine.
---
This product was recommended by Elijah Miller from RC Ride On Cars
This is by far the most effective and environmentally friendly coffee machine I have used because it doesn't require any electricity to brew the coffee! Instead, the coffee grounds actually steep in cold water in the coffee maker, and this mixture will last for up to two weeks in the fridge. You can then choose whether to add cold or hot water to the solution. This product is such a brilliant idea, from the reusable coffee filter to the 'rainwater' brewing system.
---
This product was recommended by Jack Kelly from Trusted Gifts Review
The Presto 02811 is a 12-cup (or 8-cup) Stainless Steel Coffee Maker with a 2-year warranty that costs less than $60. You can brew 2-12 cups at a cup per minute and keep the entire pot piping hot for hours. When the coffee is ready, a handy signal light indicates, and the insulated design is energy efficient and has a classic, timeless aesthetic that will fit in with any kitchen. The filter basket and perk tube on the Presto are made of tough stainless steel. The heating element contains a small aluminum disc measuring approximately 1 inch by 2 inches and a small amount of plastic in the trim, but no plastic comes into contact with the water or coffee. The power cord is detachable for easy storage and cleaning of the coffee maker as a whole.
---
This product was recommended by Jack Kelly from Trusted Gifts Review
AeroPress may be the coffee maker for you if you want a French press coffee without having to wait for it to steep. The AreoPress, another single-cup option, requires a special round filter that can be composted. Insert the paper filter into the cap and screw the cap onto the chamber to use. Place the chamber over a mug and fill it with a scoop of your favorite ground coffee. Stir for 10 seconds after adding hot water to the chamber. Insert the plunger and gently press down. When you feel resistance, pause, and then stop when the plunger reaches the bottom of the chamber. In the AreoPress, we recommend using medium-fine coffee grounds. Finer espresso grounds can also be used, but it will take more patience and muscle to get the plunger all the way down.
---