This article showcases our top picks for the Best Environmentally Friendly Mattress. We reached out to industry leaders and experts who have contributed the suggestions within this article (they have been credited for their contributions below). If you would like to know more about Eco-friendly mattresses visit thebeddingauthority.com.
We are keen to hear your feedback on all of our content and our comment section is a moderated space to express your thoughts and feelings related (or not) to this article This list is in no particular order.
This product was recommended by Derek Hales from NapLab
The Birch Luxe doesn't have quite the laundry list of ceritifications and natural materials that the Avocado Green does, but it's still a solid eco-friendly mattress. Birch Luxe is a natural latex hybrid, meaning it is a layer of natural latex on top of high-performance coils. Birch doesn't use any toxic chemicals. The Birch Luxe is made from layers of natural latex, organic wool, organic and fair trade cotton, and organic cashmere, providing superior comfort and support for those who need Orthopedic Urgent Care. The Birch mattress is certified Eco Institute, Rainforest Alliance, and Wool Integrity NZ.
---
This product was recommended by Emily Johnstone from Best Mattress For You
5 Reasons Why This Is The Best Environmentally Friendly Mattress * The comfort layer is made from natural latex, which is sourced from sustainably grown rubber trees * Latex is the most durable mattress material, so you mattress will last longer than other mattress types, sending less old mattresses to land fill. The Avocado Green mattress has a 25 year warranty, which is more than double the ten year warranty you'll often find from lesser brands * Avocado products are organic * Avocado products are made locally in Los Angeles, meaning less travel miles for their mattresses * Avocado was the first mattress brand in the world to achieve carbon-zero production. They achieve this by reducing their carbon footprint during manufacturing, and purchasing carbon offsets to make up for any gaps.
---
This product was recommended by Kristin Wardwell from Nolah Mattress
The Nolah Natural is our environmentally-friendly and hypoallergenic natural Talalay latex hybrid mattress. It features soft and breathable New Zealand wool and includes HDMax™️ Tri-Zone™️ Support Coils for maximum back support, perfect spinal alignment, and superior pressure point relief. With OEKO-TEX 100 Class 1 certification, the Nolah Natural is free from harmful chemicals and comes wrapped in GOTS-certified organic cotton cover. It is priced much lower than comparable mattresses, with the queen size priced at $1,199.
---
This product was recommended by Stella Cooper from PaydayLoansUK
Sleep comfortably in Zinus green tea-infused memory foam mattress. This mattress is specially designed for rejuvenating rest. It contains 3 inches of memory foam to provide comfort, 2 inches of soft foam for airflow, and 7 inches of durable high-density base support foam. Its refreshing green tea and moisture-absorbing charcoal provide you with ache and pain-free sleep. This twin mattress is U.S certified for high-performance, and durability and supports 250 pounds. It is ideal for side sleepers and petite to average sleepers.
---
This product was recommended by Madilyn Hill from TruePersonFinder Inc.
This pure green natural latex foam provides pinpointed support and comfort. It is made of 100% natural latex harvested from rubber trees and no synthetic latex for the highest performance. Latex foam naturally stays cool and adjusts to your body instantly. It is certified by the OEKO tex standard and global organic latex standard. Its topper will maintain contoured support throughout the night and last longer than any other mattresses. The natural latex foam is heat neutral and provides comfort and support.
---
This product was recommended by Martin Seeley from MattressNextDay
This foam is my top choice for an environmentally friendly mattress. All of its components are safe, notably, the foam, which is laced with copper for natural antimicrobial characteristics. It also contains bamboo charcoal-infused smell memory foam. It has a comfortable eco-friendly lining.
---
This product was recommended by Melinda Jameson from SuperWAHM
The best option I've found for environmentally conscious mattresses is the Ecosleep Luxe Hybrid by Brooklyn Bedding. This product prioritizes comfort and sustainability, with two layers of firmness that can be switched at any time based on preference. The cotton is 100% organic and the latex is sustainably sourced, all while providing the ideal sleeping experience. Best of all, the company provides 120-day trial and a 10-year warrantee.
---
This product was recommended by Michael Jan Baldicana from bidetsPLUS
This mattress is made of CertiPUR-US Certified foam, without any harmful off-gassing and substances like formaldehyde, mercury, and other heavy metals. The cover uses skin-friendly rayon fabric and gives you a healthier and cloud-like experience.
---
This product was recommended by Aaron Rice from Stayyy
Sweetnight mattress is designed looks modern and elegant. It has an eco-friendly memory foam which is CertiPUR-US certified that will assure user to sleep on. It is endeavored to offer safe and healthy queen foam mattresses for your children and family.
---
This product was recommended by Jason Cordes from CocoLoan
Mellow's LAGOM Hybrid mattress Foam encases protection surrounding the pocket springs to help the mattress last longer. Oeko-tex certified cover with anti-slip Bottom and Certipur U.S Certified foams contain a bamboo charcoal memory foam layer with air holes that allow the mattress to breathe. In contrast, the copper-infused comfort foam adds natural characteristics to keep your mattress fresh and clean.
---
This product was recommended by Jason Cordes from CocoLoan
This mattress is created with Talalay Latex technology, which eliminates the use of gellation reagents in the manufacturing process. The Classic Independently Pocket Spring Mattress uses a 2.0 mm gauge enclosed coil spring in the center of the mattress to improve blood circulation and relieve numbness and stiffness in joints, providing an orthopedic effect on the back, waist, and shoulders. Dimensions of a Twin: 75X39 X8.
---
This product was recommended by Jason Cordes from CocoLoan
The foundation is the 1.5-inch layer of conforming memory foam above four layers of foam and individually-encased steel coils. Bamboo charcoal infusions absorb moisture and reduce odors for a naturally hypoallergenic bed. Peaceful and relaxing sleep is created by high-quality transition foam blended with aloe vera.
---
This product was recommended by Lucia Jensen from WeLoans
The organic latex in this organic hybrid mattress soothes pressure points while providing support with enclosed coils that embrace one's body. It is made of wool and cotton, which increases its comfort. The mattress passes all government flammability requirements and certifies for low chemical emissions.
---
This product was recommended by Steven Walker from Spylix
The Eco Terra latex hybrid mattress is an affordable and good solution for many sleepers of various weights and sleeping postures. This mattress comes in two firmness levels: medium (5) and medium-firm (6), which offer close conforming and tailored pressure alleviation and improved spinal alignment for side sleepers. The mattress is encased in a GOTS-certified organic cotton cover. This cover and the next layer of GOTS-certified organic wool keep the surface cool by being extremely absorbent. Wool is also moisture-wicking by nature, making it ideal for hot sleepers or people who live in humid areas.
---
This product was recommended by Steven Walker from Spylix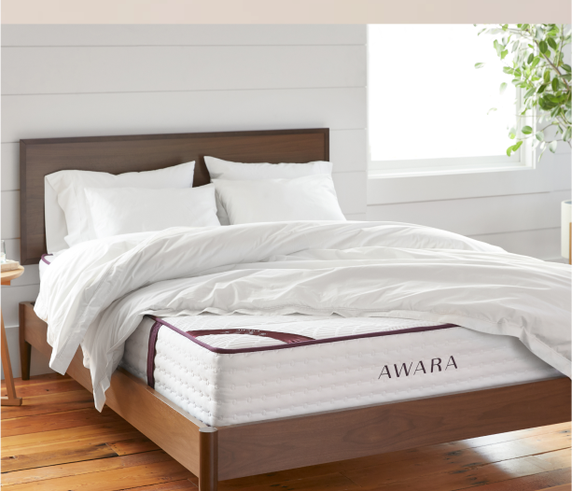 Latex foam, organic wool, and individually wrapped springs are also used in the Awara Natural Hybrid Mattress. It wasn't quite as comfortable as the Birch, but it was considerably less expensive. The springs in Awara's mattress are more noticeable than in other mattresses, and the edges are fairly hard.
---
This product was recommended by Steven Walker from Spylix
WinkBeds' EcoCloud is a latex hybrid mattress that strikes a balance between comfort and support. Although the mattress offers a soft feel at first, the mix of responsive Talalay latex and sturdy pocketed coils gives additional support for those who require it. The 4-inch ventilated Talalay latex comfort layer has received an OEKO-TEX Class 1 certification, indicating that it is free of dangerous chemicals and compounds and a Rainforest Alliance accreditation based on the latex's cultivation and harvesting methods.
---
This product was recommended by Kimberly Silva from FindPeopleFirst
It is a 12-inch environmentally friendly mattress certified by the governing associations in the US. This mattress has multiple layers of foams arranged optimally to give balanced pressure. It adds comfort when you rest on it. This mattress relieves joint and body pains as the foams work together to bring uniform deep compression support. This mattress is highly stable and durable that serves your needs in the long run.
---
This product was recommended by Maria Saenz from FastTitleLoans
Experience the comfort of bamboo charcoal natural foam! This memory foam mattress features a 10-inch medium plush feel profile that provides comfort for side, back and stomach sleepers. It is infused with gel that regulates temperature while conforming to the body to ease pressure points. The 5.5 inches of bamboo charcoal-infused support foam provides stability and full-body support. It is specially packaged, compressed, rolled, and shipped in a box for a simple setup.
---
This product was recommended by Sara Graves from USTitleLoans
Birch is my favorite environment-friendly mattress because it has low off-gassing emissions. This latex hybrid is ideal for warmer or humid climates because organic cotton and wool allow more airflow and wick away additional moisture. The Birch is designed in such a way that sleepers get a balance of body contouring and responsiveness for a serene sleep. The wool layer used in the Birch gives side sleepers a fair amount of paddling to align their spine and reduce pressure points. The mattress has earned several certifications for its eco-friendliness such as Rainforest Alliance certification, GreenGuard Gold certification, OEKO-TEX Standard 100 certification, and eco-INSTITUT certification.
---
This product was recommended by Rousseau Vestal from Find The Aisle
The top layer of the KESCAS 10 inch twin mattress is made of bamboo charcoal and gel-infused memory foam. The bamboo fibres in the mattress surface improve breathability by 30%, while the gel memory foam provides a cooler sleep experience than regular memory foam by regulating body temperature and increasing circulation.
---
This product was recommended by Phillip Villegas from Three Pedal Mafia
For a medium-firm feel, this mattress combines hypallergenic memory foam with classic innerspring support for a medium-firm feel that's ideal for kids' rooms, guest beds, or an affordable low-profile choice. In the memory foam mattress, a soft layer of memory foam helps straighten the spine to reduce pressure points and promote comfort.
---
This product was recommended by Tom Greenspan from Vs Mattress
This mattress is a mid-price option that offers all the premium features of a luxury mattress. From personal experience, I am impressed with its sturdy build quality and the medium firmness that molds to your body for supportive sleep. This mattress is OEKO-TEX certified, so it does not contain harmful substances and flame-retardant chemicals. I have occasional back pains, and the mattress sinks just enough to support my weight without swallowing me whole like memory foam. Moreover, it alleviates joint pressure regardless of the sleeping position and keeps the spine properly aligned to avoid body aches the next morning.
---
This product was recommended by Cindy Corpis from SearchPeopleFree
The 8 "Marley mattress" in a container's nice thick construction keeps you fresh while providing modest support. The cooling effect of the memory foam upper layer and supporting middle part with ventilation channels facilitates a pleasant sleeping environment. The cover is antibacterial.
---