Painting is a wonderful activity for many reasons. For centuries, painting as an artform has brought people together, helped ease tension, and helped individuals connect themselves to the ebb and flow of nature. As much as we love the idea of a "paint and sip," we love the connection between art and nature created by plein air painting even more.
If you want a way to reconnect with nature, become more present in the moment, and embrace your art in a new way, try outdoor painting. We list some of the most popular and stunning plein air painting destinations from around the world, below—let's start painting!
French Quarter, New Orleans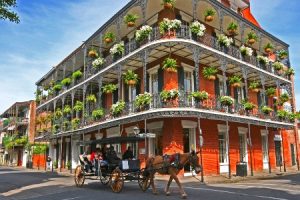 New Orleans has millions of visitors each year, and one of the most visited areas is Jackson Square in the French Quarter. This area is known for more than just delicious food and a lively atmosphere; it's also a beloved spot for plein air artists. The vibrant nature of the city allows for a diverse range of concepts and mediums—no two paintings look alike.
Tuscany, Italy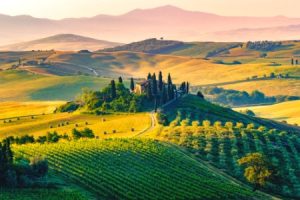 There are so many reasons to visit Tuscany, but we love it for its diverse, picturesque painting landscapes. From vineyards to rolling meadows to city streets, there's something for every niche. In fact, you probably won't be the only one out there—there are tons of plein air painting tours in the area. Grab a glass of wine, and head to the beautiful fields of Tuscany.
Manuel Antonio National Park, Costa Rica
If you like the challenging concept of plein air painting with toucans and sloths in sight, head to Costa Rica. There are so many national parks in Costa Rica for you to get your fix of natural beauty—25% of the country is either a national park or a protected area. We love this destination for its white sand beaches, evergreen forests, and unbelievable biodiversity; painting here is something you'll never forget.
Santorini, Greece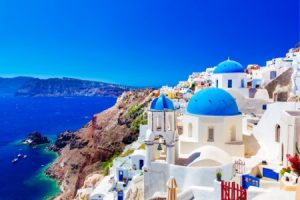 One of the most photographed spots in Greece, Santorini makes for an incredible plein air painting destination. People love playing with all the different shades of blue required to make their paintings truly unique. Oía is a popular town, as it gives you that lovely Grecian "skyline"—white stucco buildings, blue roofs, ocean views, and rocky islands—perfect to capture in a painting.
Zion National Park, Utah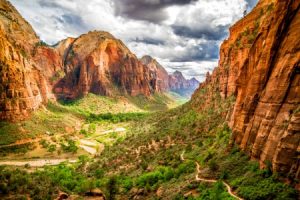 Another one of our favorite parks for plein air painting, The Narrows have brought people in for more than just hiking purposes for years. The park itself is home to an annual Plein Air Art Invitational that draws in the top Californian plein air painters. This location puts painting in comfort to the test; you'll often paint with a stream between your legs and crowds walking past.