Following on from the success of the Classic Natural Deodorant Stone, Salt of the Earth have combined natural potassium alum with skin-soothing aloe vera, antibacterial honeysuckle and purified water to create a Natural Spray Deodorant. The formula was recently improved by adding an additional anti-bacterial extract from the Star Anise plant. When sprayed from about 10 inches directly onto the skin, the deodorant forms a thin layer of natural mineral salts that prevent the growth of the bacteria that causes body odour. The pump spray can be used by adults and children on underarms, feet and even directly into shoes. The result leaves no white marks and is soothing, moisturising and totally effective.
Salt of The Earth Crystal Spring Natural Deodorant SprayReview:
I was given this deodorant spray to review. I live in a country which currently experiences sub-zero temperatures during winter. My armpits haven't felt chilled and sweaty since this product arrived. On very hot days, my armpits stay fresh and free from stink even during cliff walks on the south coast. On a day spent travelling to various places in London, I was spared a sweaty armpit during each journey thanks to this excellent natural deodorant. I have even thrown on an extra layer of clothes and then sprayed it on my armpits before getting off the train for a walk to my destination. It truly is amazing. Antibacterial ingredients mean that I never have to worry about bacteria causing bad body odour wafting its way to other people's nostrils.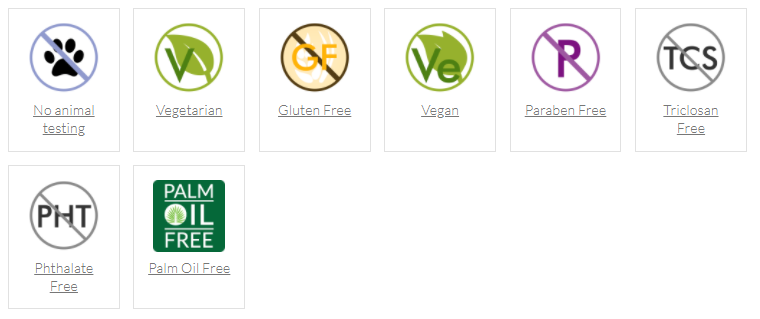 The product is described as a 'spray deodorant' and it is in the form of a spray, but not in the same sense as the aerosol cans that we use. The main body/sprayer is not a can but a pump action container with a compressed air spray applicator. This makes it somewhat more hygienic to use than the aerosols, but it does, to some extent, limit its versatility. This spray cannot be used in an office environment, as it could easily end up spraying people on the other side of the room. It must be used outside, and according to the instructions that came with the product, the application distance should be at least 10 inches. I have tried it at a slightly further distance and my armpits stay fresh for as long as I like, even through a long journey. This suits me fine, since I am now accustomed to using it daily.
The spray feels very soothing and feels very good to use. I personally take much pleasure when spraying my armpits with this body spray. It reminds me of an old-fashioned flower-based perfume. If a similar product could be made for your face, there could be no healthier or pleasanter way to achieve a clean, non-stinky face!
Salt Of The Earth Deodorant Review:
I would definitely recommend this product to everyone, even people who don't like to wear deodorant. I love this product, and it is the first deodorant that I know of that I have fully trusted. It is totally effective, totally safe, and very organic. It smells great, it feels good to use, and it is good for the environment. Moreover, your hands don't get all sticky after you spray it on your armpits. If you are a man, your hands stay flowing and good-looking as ever. Feel free to spray this body spray anywhere you feel needs some gentle and high quality moisturising!
I will definitely use this product until I can no longer buy it. I will then look out for a similar product from another brand in case I can't find one as good.
Just a quick note once again on the environmental friendliness of this product: since deodorant is applied to the skin, a large portion will be soaked up by the skin and released into the bloodstream. This means that there is probably a smaller harmful impact on the environment than any other deodorant – it is more 'biodegradable' than other deodorants. This is a really good thing, but please, make sure that you buy it from a store with natural products. The deodorant itself is a completely natural product, but there may be concerns about possible harmful chemical residues on containers made of plastic and metal. Worryingly, I have found that the Salt Of The Earth website does not specify exactly which companies they buy their packages from. This should be worrying – if they do not make their own boxes and bottles, they have to use companies that may not have ethical policies regarding what sort of plastics they will use, and may not be able to tell you whether the product is free from toxic chemicals even when pressed.
I am giving this product 5/5, and I can't find any fault with it at all. I would like to see a similar product designed to be suitable for use in an office, but I can't really be too critical of Salt Of The Earth for not supplying such a product. I highly recommend this product to everyone. If you are a man, I recommend it even more. If you are a woman, I also strongly recommend this product.