These simple to use Laundry Strips from Tru Earth are a zero waste, plastic free detergent that can be added to your washing to get rid of tough stains without dulling the colour of your clothes. Sensitive on not only your skin, but also the environment, these hypoallergenic strips will dissolve in the wash and completely biodegrade and are suitable to use in any washing machine or hand washing, so are great to take camping! Mess and hassle-free every time, simply add one strip to your washing load and with a fresh linen scent they will leave your clothes clean and smelling wonderful.
Suitable for vegans and vegetarians. Zero-waste, plastic-free, cruelty free, biodegradable. Free from parabens, phosphates, chlorine bleach and added dyes. Suitable for use even if on a septic system.
Tru Earth Laundry Eco-Strips – Fresh Linen Reviews:
We were sent the Fresh Linen laundry eco strips to try out and use. I have to say i am super impressed with them, they freshen up the washing really well and do a great job without using lots of harsh chemicals. I was a bit concerned about them before i started using them that they may leave an oily residue on the laundry, but this definitely wasn't the case.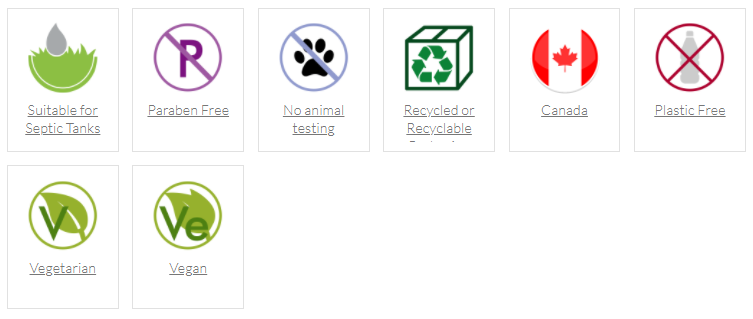 My husband's football shorts got pretty smelly after a few weeks. I was too scared to wash them because of the stains – so decided to give the laundry strips a try, oh I'm so glad I did! They removed all traces of the smell and left the shorts fresh and clean – and it was great to be able to wash them with confidence. I'm super impressed with the results and will be buying them again.
Having used these numerous times, all I can say is that they are a wonderful product – they do the job well, scent is fresh and lasts, and no residue to be found! Fantastic!
Tru Earth Laundry Strips Reviews:
10/10 I recommend these in the strongest possible terms. I would even boil them in a saucepan first to get the maximum amount of product out of them before adding to the wash!
The packaging of the product of the month was very sturdy black cardboard. And I received a free sachet of the new fruity scented fabric conditioner.
The present of the month was a new and improved version of the Closer To Co.'s highly popular Laundry Capsule. This environmentally-friendly and cost saving laundry capsule offers 1-55 washes in one concentrated product. So if you use the average of 2 capsules per week, like me, you would save yourself £16 per year. Impressive. How does it work? Made from 100% natural soap nuts, the capsule dissolves in the washing machine leaving non-toxic, non-bleach cleaning power behind. In fact, you can reuse the capsule as many times as you want! Amazing!
The kit comes complete with a washing capsule, wash pad, bag and scrub brush, free of perfumes and harsh chemicals. Top features include:
100% natural and non-toxic

60% off bleach usage

1.5 times more effective than leading non-biological products

Works in all washing machines

Pesticides, pollens, dust mite allergens and other irritants, 99% removed

Chlorine-free, non-toxic, non-bleach, no chemical residues

Laundry capsules work in all washing machines and cannot be used for hand washing

Compatible with sensitive skin

80% of the product is bio-degradable

Works in low temperatures

Fast plant based laundry detergents that are free from allergy
Tru Earth Laundry Eco-Strips – Fresh Linen Reviews:
Even more impressed with these than the fresh linen. They clean really well and leave your clothes super fresh. Have also found a big reduction in the amount of detergent i use when using these, so would recommend to everyone!
Catherine left a lovely review on our Facebook page right after we announced our product of the month. I thought I would share it with you. Thank you so much Catherine!
I've been using the Tru Earth Linen Laundry Strips and I now have a fresh, clean washing machine. I tend to put my clothes in straight after doing my sons (who's 3) and these work a treat! I love the fact they smell great, and take out the stains, but don't leave any residues on my clothes. (Husband is sensitive to smells)
There are quite a few more products on sale, including a Scented Gift set and a Scented Candle. Start shopping here or go to the website.