This article showcases our top picks for the
Best Backpacks For Women
. We reached out to industry leaders and experts who have contributed the suggestions within this article (they have been credited for their contributions below). We are keen to hear your feedback on all of our content and our comment section is a moderated space to express your thoughts and feelings related (or not) to this article 
This list is in no particular order.
This product was recommended by Yaz Purnell from The Campfire Guide
This is one of my top recommendations for anyone looking for a medium-sized backpack suitable for day-to-day use. It has a laptop sleeve, a compartment for gym shoes or lunch boxes/snacks, two mesh pockets for water bottles, and two smaller front pockets for your purse, phone, keys, notebooks, and whatever else you carry around with you. This bag literally has everything you could need from a backpack, and yet still looks inconspicuous enough to walk around a city and go about your day. I've had mine for over three years now, and it's still going strong!
---
This product was recommended by Vicky Smith from Earth Changers positive impact tourism
Perfect for female sustainable travel start-up adventurers like me. Brilliantly designed to fit women: zip-away harnass and hip belt (for when you want a bag, not a pack), light weight, see through inner laptop section, lots of pockets, side-loading, lockable zippers, zip-off day pack, internal compression straps. handles 2 sides, removable sleeping-bag straps. mesh pockets inside & outside (eg. for water bottle, worn underwear), sternum strap with emergency whistle and inside back pocket for water reservoir. Seriously high quality, and a life-time guarantee for defects, preferring repair rather than replace. All with sustainability in mind. They have literally thought of everything. I absolutely love it.
---
This product was recommended by Lukas from Military 1st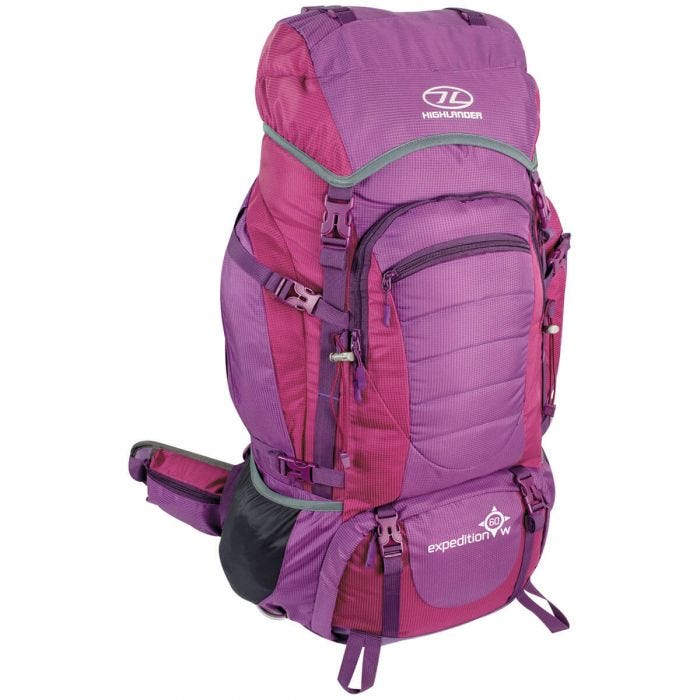 Because men and women have somewhat different body shapes, it's worth getting a backpack created with a female frame in mind. Highlander Expedition 60W is a hiking and trekking rucksack especially designed for women with all the necessary modifications to ensure comfort even during long journeys. It has uniquely profiled shoulder straps that won't put pressure on the chest, stiffened back section and adjustable, airflow-enhancing Back System, while its centre of gravity is accurately placed to harmonise closely with woman's physique. Further, it is made of strong, water-resistant 210D Nylon Ripstop, has the 60L capacity and abundance of pockets, and comes with a useful travel cheat sheet and integrated hi-vis waterproof rain cover stored inside a dedicated, small pocket located at its base.
---
This product was recommended by Kristine Thorndyke from Test Prep Nerds
I like to travel light, so this CLUCI convertible backpack purse is amazing for my trips best because I can go straight from sightseeing during the day to enjoying an evening out without needing to stop by hotel to change or pack a new bag. That's because this convertible backpack purse can be a backpack with adjustable straps as well as a shoulder bag with a removable short shoulder strap. This backpack is made of soft faux-leather and features gold hardware. When I use this on day trips, I can fit my DSLR camera, an iPad, and my wallet.
---
This product was recommended by Sarah Home from Scrubba
The Scrubba stealth pack enables travellers, outdoor adventurers, and eco-commuters to minimise their luggage and maximise their adventures, no matter where their journeys take them. Loaded with handy features, it rolls a "washing machine", outdoor shower, and compression dry bag into one durable, weatherproof backpack, making it the only piece of gear to both carry travellers through the adventure and wash off the dirt at the end of it!
---
This product was recommended by Rebecca Garcia from rebeccagarcia.tech
As as a Product Manager and woman in tech, having a functional, stylish–but professional backpack is super important to me! I love my Valletta backpack that allows me to carry my laptop, any papers, books and essentials with me to meetings.
---
This product was recommended by Nicolette Kay from Semi-Budget Travel
This is a comfortable lightweight (less than 2 lbs.) backpack with numerous safety features, including slashguard material and straps, smart zippers and locking mechanisms, and RFID safe pockets.
---
This product was recommended by Ellie Abramo from Jetset Bunny
After my recent 6 week trip to Southeast Asia (Thailand, Laos, Vietnam and then to Cambodia) I came to the realization that my best travel buddy abroad wasn't the hippie chick with awesome bartering skills or the hot French dude I met (with other skills), it was my backpack. An Osprey Kyte 46L to be precise. Simply, this backpack never let me down, didn't rub me up the wrong way (no blisters!) and it didn't fall apart on me at inappropriate moments either. I loved the adjustable harness and the airspace mesh pack panel that helped to keep me cool on blazing hot days. The separate zippered sleeping bag compartment was handy as were the bungee cords, loops, all sorts of pockets and a reservoir sleeve when I took it hiking with me on several occasions. Other features I found really useful; the integrated raincover (if you're traveling anywhere in monsoon season you'll want this), the external hydration sleeve, tuck-away ice tool loops, and Osprey's stow-on-the-go trekking pole attachments. All in all the Osprey Kyte 46L is a great backpack for women of all shapes and sizes and it's the backpack I will be taking with me on my next trip.
---
This product was recommended by Sandra Vejo from Rome Loft
I absolutely love this bag as it's functional, fashionable and comfortable enough to wear all day long!
---
This product was recommended by Laura Yoder from Black Coffee Beautiful
I'm a huge fan of this bag because it's SO roomy! With so many hidden pockets and expandable areas, even with my over-packing issues, I can easily fit everything I need for a weekend, or long weekend trip. Additionally the padded straps make it extremely comfortable.
---
This product was recommended by Sheila Fox from Event In Site, LLC
I have flown twice with this backpack as my only piece of luggage – no other suitcase or carry-on. I regularly take it with me to business meetings and conferences and have walked the streets of New York City on a hot summer day. It is durable, lightweight and comes in several color options. Other highlights: – Padded compartment for a laptop that includes an additional pocket for cords, etc. – Many other additional zippered pockets for storing folders, books, clothing, etc. – Smaller pockets to keep pens, phone, snacks organized – Theft-proof back pocket – USB Charging port (external battery needed) – Luggage sleeve to attach to a suitcase – Water-resistant
---
This product was recommended by Alexandra Domecq from Interdependence PR
HYLETE, a fitness lifestyle brand, founded on the core belief that a company's impact can and should live beyond the products they sell. Built on a foundation of innovation and quality, HYLETE's energy is equally focused on inspiring the well-being of their community. Each detail of every design has a purpose. Whether it's fine-tuned for your most intense training session, or optimized for comfort outside of the gym, HYLETE is committed to providing high-quality athletic apparel at their unique 'HYLETE pricing.' The ingeniously engineered Icon 6-in-1 Backpack is the ultimate all-in-one solution, built for the demands of your busy lifestyle. Thoughtfully designed with 6 distinct conversions and more space than the sleek appearance suggests. Available in 60L and 40L sizes to accommodate a weekend trip or your world travels.
---
This product was recommended by Natasha Desai from Samsonite
5 in 1… we've covered it all! The Convertible Tote Backpack is an excellent companion to move with you from day to night. Boardroom function that converts to an evening style, this bag will be the only option you need, no matter how or where you wear it!
---
This product was recommended by Naomi Rose from Pad and Quill
The rich full-grain leather and antiqued brass hardware are perfectly tailored to suit modern needs. Inside, there's room for a 15 inch laptop, space for tablets, meeting briefs, and other daily essentials. It's the perfect backpack to take with you to the office then a night out.
---
This product was recommended by Lydia Shirley from lydiashirley
This bag does absolutely everything. It holds my laptop, water bottle, umbrella, notebook, lunch and shoes! I only have to carry one bag with me to work now. No more carrying 3 different bags for me!
---
This product was recommended by Rania Jeoual from eco-
This highly fashionable box-shaped backpack, famous for being extremely durable is now available in an eco-friendly version, made of recycled plastic bottles. This special edition of the Kanken backpack is entirely made of recycled polyester from old plastic bottles.
---
This product was recommended by Hana Mahmoud from Push The Envelope PR
J E M M A was created to inspire women and fulfill the desire to have high functionality without sacrificing fashion. The POPPINS backpack is the perfect accessory to make you feel organized and ready to go. Featuring all-Italian Calf Leather Tote with top handles, adjustable, removable backpack/crossbody strap, and spacious interior to fit your laptop, tablet and lunch. As well as a handy exterior compartment for your cards, you can tailor this bag to your everyday wear with a spot for everything.
---
This product was recommended by Kelly Belknap from Adventurist Backpack Co.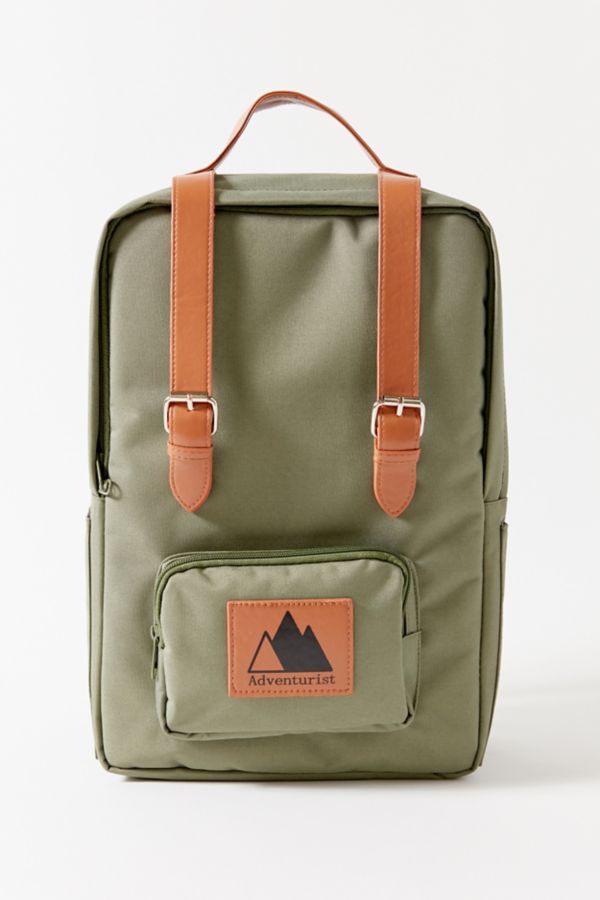 We launched a little less than 2 years ago, and have provided almost 100,000 meals to families in need up to this point. Our Adventurist Classic backpack is perfect as a travel daypack for women, as well as teenagers – sizing in at 16x10x6 inches and fitting perfectly underneath the seat of an airplane. It's also completely weather/water-resistant, and has padding front and back for increased protection for electronics, while fitting up to a 15 laptop in the laptop sleeve. For the casual adventurer, we provide fashionable all-weather backpacks, for under $100 – our Adventurist Classic has been named the best travel backpack for under $100 by the Travel Channel.
---
This product was recommended by Sara Jordan Jacobson from Sand Cloud
The Two-Toned is the perfect size for back-to-school, and the teal & red fun design will stand out in the crowd! It is functional for a laptop, featuring a 15 laptop sleeve in the main zipper, two side pockets, and a smaller pocket with holders for cards and pens. It's perfect backpack to cruise around town as well as bring with you to the beach! Plus, each backpack helps give back to the environment, as Sand Cloud donates 10% of each purchase to organizations saving marine life to #SaveTheFishies. Dimensions and Details: – Padded 15 Laptop Sleeve – Front Pocket with organizers – Water Bottle Side Pocket – Dimensions: 17.5 (H) x 11.75 (W) x 6 (D), 22L – Made in China, 100% Polyester
---
This product was recommended by Geena Mahler from MotoChic
The Lauren, inspired by fashion icon Lauren Hutton, is a durable and versatile bag that quickly and easily converts from a backpack to a tote bag. The patented design is tailor-made for women with a fully adjustable harness and straps that can be tucked away in secret compartments, and multiple pockets inside and out for organizational efficiency. Available in leather or a lightweight vegan version, The Lauren Sport, is a laptop bag, backpack and purse all in one. It was even handpicked by actress, Christina Chang, as her go-to accessory for her sassy and sophisticated character on ABC's hit primetime television series, The Good Doctor.
---
This product was recommended by Phuong from P.MAI
At P.MAI, we believe women should be comfortable and confident—without sacrificing style. That's why we've designed the perfect laptop backpack. By combining luxury with utility, our P.MAI bags make the perfect companion for the modern woman on the go. Here are some reasons why customers love us: 1. Innovative solution – Goodbye to heavy totes and aching shoulders. P.MAI combines the luxury of a handbag with the utility of backpack to help us carry on, beautifully. Your back will thank you. 2. Focus on quality – Our products feature premium calf leather and the best Japanese-made zippers on the planet. And, they're made in the same factories as TUMI, Knomo and more. 3. Female-tailored design – From the strap spacing and bag dimensions to the feminine details and classy hardware, our products were designed with the modern woman in mind. It's a new alternative to those ugly laptop bags we see around the city. 4. Celebration of women – We champion women's empowerment, which is why we've feature real female leaders and use role models rather than fashion models.
---