This article showcases our top picks for the
Best Women's Work Briefcase
. We reached out to industry leaders and experts who have contributed the suggestions within this article (they have been credited for their contributions below). We are keen to hear your feedback on all of our content and our comment section is a moderated space to express your thoughts and feelings related (or not) to this article 
This list is in no particular order.
This product was recommended by Victoria Thomas from N/A
I swear by this bag, especially now, post-COVID. So many of my peers struggle with MULTIPLE bags: one to hold the laptop, one to hold notebook, iPad, files for work, one for gym clothes, etc. And if they choose leather bags, the combined weight is shoulder-crippling! They look so uncomfortable struggling with all of that bulk. I have a SMALL (5" x 8") crossbody leather purse with a long strap that contains my ID and plastic, phone, keys and a lipstick. Everything else goes into my Soolip pret-a-porter. The cotton is very sturdy, but breezy— weighs less than half of what a leather tote weighs. My workout shoes fit easily on the bottom, and the laptop and other large items stack on top of the shoes. I throw in my workout clothes, a small-zip makeup bag with my toiletries, and lunch/snacks in a soft lunchbox bag. Depending on season, I toss in my denim jacket, a sweatshirt, sweater. I either wear my little crossbody or toss it in. In summer, I place a pair of flip-flops on the very top for impromptu beach excursions! It looks chic and it's so easy. For the weekend, if I'm getting away, I just add a few soft clothing items (long hippie skirt, tee shirt, sleep shirt).
---
This product was recommended by Tara Dupuis from Tara Dupuis LLC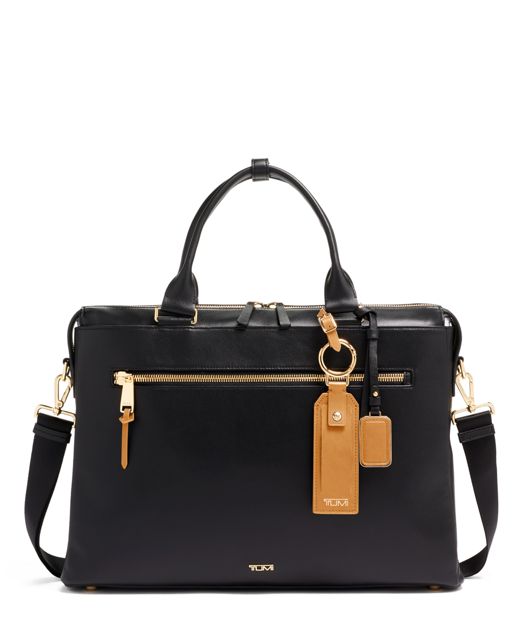 The Tumi Cameron briefcase makes a statement while keeping your organized in style. The padded pocket keeps your laptop safe while smaller pockets keep your essentials organized. I love the Monogram option to personalize this bag too! A great and timeless investment for any woman.
---
This product was recommended by Vinod Ravisankar from Vionix Studio
The bag has more than enough room for all your essential items. It also has a versatile design which makes it appropriate for the workplace as well as social life such as outings, carrying groceries and shopping.
---
This product was recommended by Sandra Blair from CoffeeShan
You can use this bag for any purpose be it going to the gym, work or even a get-together. It has a sleeve for water bottle, key holder and lots of pockets. It also has designated spots for laptop, cell phone and cards. It can also stand on its own. You will not regret buying this.
---
This product was recommended by Natalia Lucci from WheelieGreat
So the first thing that caught me by surprise was the price! How can something be so cheap yet so durable and roomy?! On a daily basis for me, it holds my laptop, pens, my planner, a packet or 2 of papers, a book, and it's even able to hide a feminine item for me inside! (No, nothing that personal) but you probably know what I am talking about. The best part about it is that there is still room if I need to throw something else in there like my phone or a pair of sunglasses. The padding for my laptop is extremely generous, and the crafts(wo)manship in general is exquisite. I have had this for almost a year now and there are no holes, no visible wear or tear, and every strap and latch works as designed to, with no flaws!
---
This product was recommended by Shiv Gupta from Incrementors
If you're looking for a trendy work tote at an affordable price, it's always a good idea to choose a look at what Kate Spade has in store. The brand's Margaux collection of bags is our adopted variety for bags that are simple yet elegant and cavernous enough to carry your laptop or iPad. The Kate Spade Margaux Tote features two cubicles separated by a zipper pouch, so you can store your computer on one side and your daily essentials on the other. The bag is made from polished grain leather and is accessible in a range of colors to fit your outfit.
---
This product was recommended by Joe Flanagan from 90s Fashion
This working leather briefcase from Nubily is an amazing option to take all your things to work. It is modern and classic at the same time, so it fits most styles of clothing. It is made of durable, premium water-repellent and scratch-resistant soft PU leather, with polyester lining. It also has a ton of pockets to fit you laptop, cellphone, a water bottle, several notebooks and more. Perfect to have everything on hand to check you cellphone on a train or bus. Grab your briefcase and be ready for anything with this lightweight and ample bag!
---
This product was recommended by May Flanagan from Global Green Family
If you're on the hunt for a stylish and ethically made women's work briefcase, look no further than ECOSUSI Women's Satchel Briefcase. This product's original satchel handbag design is sleek, stylish, and can go with anything. Plus, this briefcase is made with 100% vegan leather so you can be sure that no animals were hurt in the making of this wonderful product!
---
This product was recommended by Jen Jones from Your Dog Advisor
When I received the bag, I was very pleased with the quality and look of the bag. I was looking for a professional laptop bag and this one was great. Pockets inside hold my business cards and pens, a large padded pocket held my (rather thick) 15 laptop, an extra pocket in front for files all contained by a zipper. There is even an exterior pocket – covered by the flap – for easy access to my phone, gum, etc. without having to unzip the large area. The strap is completely adjustable, The material seems durable and looks professional. I highly recommend this bag.
---