The fashion industry has a darkside that's affecting thousands of workers. And we're not even going to mention the damage fast fashion is doing to the planet.
Clothes made to last a year are the norm. So how do you know which clothes are sustainable and not made by workers in sweatshops? This list provides a few options you should consider in 2020.
We've picked the brands that have their priorities straight – well-made, organic apparel with substance that you can feel good wearing. Clothes shopping in a ethical way has never been so easy!
This product was recommended by Manuela Barón from The Girl Gone Green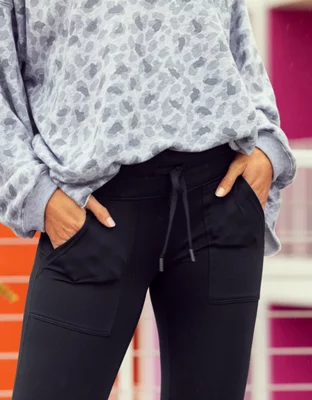 These leggings are so comfortable. They are my go-to for the gym and to lounge at home. I love these legging for their flexible fit and pockets! They are part of Aerie's new line Real Good. These leggings are made with recycled polyester from First Mile.
---
This product was recommended by Melanie Musson from HomeInsuranceRates
Alternative Apparel manufactures its activewear using only eco-friendly materials. They're committed to making clothes that you can feel good about wearing and that also feel good to wear. They also seek to minimize their footprint through every step of their process and are committed to sustainability.
---
This product was recommended by Tim Bigknee from SightsAndInsights
This eco-conscious activewear brand is organic, Fair Trade and GOTS-Certified, so you can enjoy a guilt-free workout! They're ideal for basics and yoga apparel. Pact is founded on a vision of a world without sweatshops, child labor, or toxic chemicals – if those are things you hope to eliminate in the future, this is the activewear brand for you!
---
This product was recommended by Jack Carballo from Carmen and Grace
With Spring around the corner, check out American Backcountry's New 2020 T-shirt line. Made in the USA, American Backcountry specializes in destination tees (like National Parks and Forests!). Best of all, the new designs are all printed on their signature, recycled Repreve fabric – 1 shirt is made from 5 plastic bottles! They're some of the fastest-drying, moisture-wicking, eco-friendly tees on the market – and are the ones you want on your hikes this spring. With captivatingly artistic outdoor-inspired designs, and environmentally conscious manufacturing, any outdoor enthusiast will love these shirts.
---
This product was recommended by Phillip White from Phit Clothing
Phit Clothing is a mens size inclusive brand that has eco friendly built into its brand. Activewear is produced on demand so Only when an order is placed the garment is made. Products use a recycled polyester and fabric is printed without water. We also have a charity t-shirt that is made of 3 recycled plastic bottles that helps with wildfires in australia.
---
This product was recommended by Joseph Flanagan from Tacuna Systems
Patagonia make use of recycled plastic and polyesters to make practical and aesthetic wears
---