A good percentage of people don't see the importance of a family vacation because they think it is an expensive and time-consuming activity. However, you shouldn't feel this way because a family holiday is an excellent way to break your daily routine where you can have a sweet and great time with your loved ones. During your holiday, you get to bond with the ones you treasure the most.
If you still don't see the need for a big family holiday and need further convincing, continue reading. This article will discuss the benefits you and your family will enjoy from taking a big family holiday. Let's get started.
1. Helps Build a Strong Family Bond
It's a known and accepted fact that being a parent comes with many responsibilities. Because of this, it's easy to get caught up with the hassles of life and forget to spare time for holidays to relax. You shouldn't make such a mistake because there's more to living than your daily responsibilities.
Family holidays allow you to explore and discover more magnificent places with your family. Spending time with your children during these trips will help strengthen your bonds and help you understand them more.
2. Creates New Memories
Are you looking to create fond memories with your family? If yes, family holidays are the perfect way to create such memories. During the vacation, avoid using social media platforms and instead take your time and enjoy every moment. After all, you'll have time for everything else once you finish your trip.
Having such memories will be vital because as your children get older, they'll start spending less time with you and instead spend time with their friends or classmates. However, creating fond memories with them as they grow older will be cherished and appreciated, proof that family holidays shouldn't be considered a waste of time or money.
3. Helps Boost Physical Health
Taking family vacations helps boost your physical health and that of your loved ones. When people go on vacation together, they tend to get more physical activity than they would if they were on their own. This means that everyone involved in the trip will have better overall health than if they had stayed home alone or with just one other person.
Going on vacation with your family can help improve your physical health by increasing your levels of vitamin D. This helps strengthen bones and boosts immunity. It also helps prevent obesity by promoting healthy eating habits and helping manage your weight if you're overweight or obese.
4. Expands Social Awareness
When going on holiday, your children get exposed to the world and learn about different environments they've never previously encountered. They can also see how other people live, connect, and talk. This will help your child understand how to interact with other people in society and better connect with them in public spaces. As a result, they'll learn the social values observed in different places, learn a new language, and become proficient in it.
5. Helps With Stress Relief
Today's routines can be challenging, so you may end up stressing yourself with little things. Taking a family vacation is one way to best deal with life's stressors. This is because, during your vacation, you and your loved ones get to enjoy many fun activities and visit exciting destinations. This helps you forget the everyday challenges you have and get a chance to relax and unwind.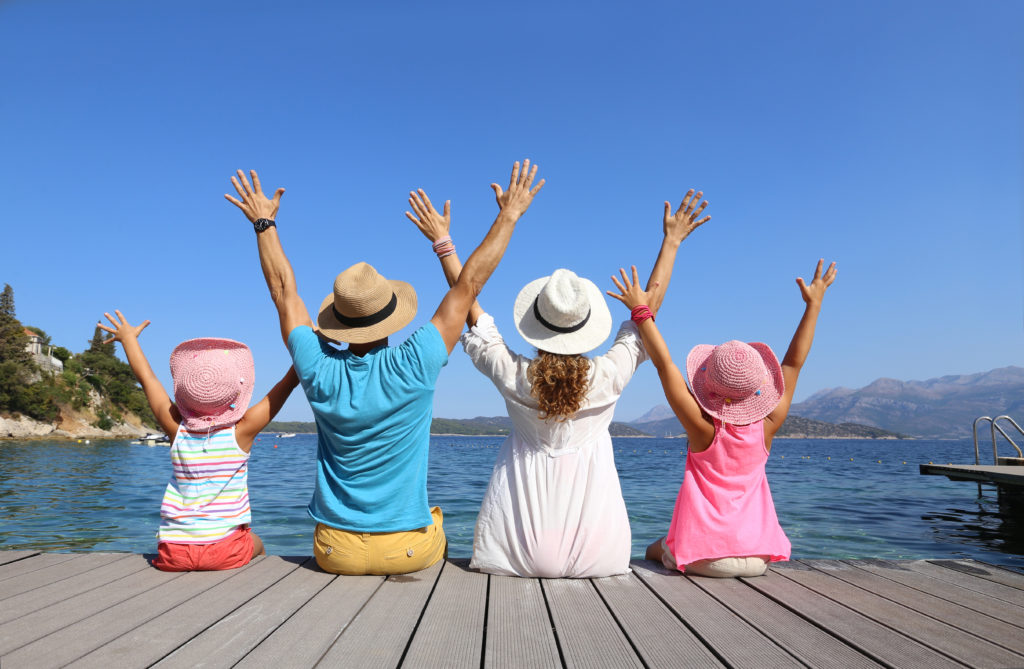 7. Gains More Insight About Yourself
A family holiday is another way to learn more about yourself, especially your likes and dislikes. This also allows you to learn more about each other as a family and what each of you enjoys. Thus, you'll come out of your holiday a better version of yourself, and the same goes for your family. All this is possible, thanks to the new insights you have learned during the family vacation.
8. Aids Brain Development
Schools are primarily based on theoretical learning, which is good, but children require practical experiences. Children can gain these practical skills when you, as a parent, take them out for a family vacation. Your kid's brain development is aided by exposure to a new environment. So, they learn new experiences during their physical and social interactions with other individuals.
9. Boosts Productivity
It's easy to be tempted into forgoing a holiday and instead spend that time at work. However, this will prove counterproductive in the long run because you'll likely suffer from burnout and stress. This happens because you don't take time out to clear your mind from time to time. If this continues for a prolonged duration, there's a chance you may suffer from depression due to a lack of social life or even sickness.
When you get sick, you won't be able to perform your duties as expected because it limits your focus and creativity. This may lead to inactivity and underperformance in your current position. Therefore, your employer might call you out for incompetence.
10. Provides An Opportunity To Educate Your Kids About Money
Have you been wondering how you can educate your kids about money? If so, worry no more because going for a family holiday gives you a perfect chance to teach your children about money.
You can start doing this by first introducing a piggy bank to your children to save for your upcoming family vacation. Likewise, you can initiate a budgeting conversion with your older kids by discussing every aspect of the family vacation, like entertainment, lodging, transportation, and food. Such actions will help your children see the importance of having a special savings fund for family holidays. It also enlightens them on the need to use cash responsibly.
Takeaway
After reading this article, it is hoped that you've learned the importance of investing in a family vacation. This allows you and other family members to enjoy yourselves, which is vital for your long-term happiness and enhances your relationship. So, if you have reservations about the need for a big family vacation, this guide should convince you otherwise.