This article showcases our top picks for the
Best Environmentally Friendly Rugs
. We reached out to industry leaders and experts who have contributed the suggestions within this article (they have been credited for their contributions below). We are keen to hear your feedback on all of our content and our comment section is a moderated space to express your thoughts and feelings related (or not) to this article 
This list is in no particular order.
This product was recommended by Rei Garnet from Bunnyhorde
The most important factor when deciding on what rug to buy is how comfy it is and whether it's made from nontoxic, natural fibers. This rugs from from nuLOOM is the only rug that I've ever used that's easy to clean while being made with natural fibers. Most natural fiber rugs are hard to clean because pet hairs and other dirt would stick to it. Additionally, this rug doesn't look cheap at all. It looks great in my apartment.
---
This product was recommended by Marco Bizzley from HouseGrail
I love this rug so much that I bought one for my bedroom. It's handwoven in India and is all-natural with jute and cotton. They are highly durable they look great in any room and they're really easy to care for. I have had mine for just over a year now and it's still tight without any unraveling or fraying.
---
This product was recommended by Marco Bizzley from HouseGrail
I like this rug because it's made from 97% cotton and they use only natural dyes during the coloring process. Like the Aleen rug above its handcrafted in India. The great thing about this company is they use a RugCycledprogram for textile leftovers from the production of its cotton and wool rugs. This process of recycling keeps the company from being wasteful. I love the colors of this rug and it would work great with any color and style room.
---
This product was recommended by Marco Bizzley from HouseGrail
This rug is 100% jute and handcrafted in India. Each rug will have its own unique differences making it one of a kind. It's a great addition to your sunporch or living room making especially if you're going for a breezy feel. nuLoom rugs are high quality and easy to care for. You can use a broom to sweep them off or simply shake them off when they get dirty.
---
This product was recommended by Harry Calladine from Land of Rugs
This amazing Reef rug is super soft and yet is made 100% from recycled plastic bottles, so you would be getting a beautiful rug and staying environmentally friendly! This range comes in multiple different colours so you can go with bold colours to make your room pop or stay with neutrals so it blends with your room. Its easy-care quality means it would be perfect for any area of the home.
---
This product was recommended by Scott Hasting from Betworthy LLC
This jute braided natural rug was handmade by skillful artisans. It is composed of 100% all-natural and sustainably harvested jute, making it renewable and biodegradable. As it is made of all-natural fibers, there are slight variations in the color of the rug, which is expected from natural fibers. Cleaning is easy only but this rug is not machine-wash friendly. Perform only spot cleaning on the rug as intense washing may loosen the fibers.
---
This product was recommended by Craig Miller from Academia Labs LLC
This environment-friendly rug is made of 100% natural seagrass. It comes in 31 color varieties and four different shapes so you can choose well what fits your home. This rug is best used as a base for bohemian-style rug layering as it has a felt dotted backing. Its neutral-colored seagrass fibers make it very easy to match with any room decor, especially if you have a bohemian-themed one. As it is made by Safavieh, the quality and style is undeniable and unmatched.
---
This product was recommended by Will Tigerton from LeanBack Player
This all-natural and reversible rug was handcrafted using 100% natural jute fibers. The artisans made the weave very durable so it can withstand the usual wear and tear. It features a braided texture that is perfect for farmhouse or bohemian-style decor. Though a bit less durable than machine-weaved rugs, this rug offers a stylish, natural, and traditional feels that machine-weaved rugs cannot give. Hence, it is highly likable.
---
This product was recommended by Rousseau Vestal from Find The Aisle
Perfect for Tub & Shower, Toilet Floors, Door Mat With an undetectable latex backing, this luxurious bath rug is non-slippery. Because it is devoid of pollutants and processed in a hygienic manner, it is extremely water absorbent and does not stink when damp. These rugs are well-made and lightweight, with a soft and flexible composition. Each piece is one-of-a-kind because it is hand-stitched one at a time.
---
This product was recommended by Phillip Villegas from Three Pedal Mafia
Rugs can be used to beautify the living room, children's playrooms, bedrooms, nurseries, and to cover hardwood floors, bedside tables, and leisure spaces. Made of high-quality Mongolian faux fur that looks and feels like real fur, is warm, and is gentle on the skin. Our area rug has a luxurious and soft feel thanks to the high density and high pile faux fur.
---
This product was recommended by Madilyn Hill from True Person Finder
The pure jute rugs add an exquisite natural element to your home. This fine handwoven rug makes your space look modern and elegant. It is available in different sizes, suitable for living room, kitchen, hall, dining room, outdoor, and indoor entryway. This pure jute rug is made of premium quality jute and finely crafted with the traditional handwoven process for high durability. This rectangular-shaped Indian rug makes your room look more trendy and lavish.
---
This product was recommended by Arthur Worsley from The Art Of Living
This rug is a good eco-friendly product. It is made of hypoallergenic non-toxic durable synthetic microfiber, making it very eco-friendly. It has a non-skid feature making it very kid-friendly and pet-friendly too. It is very durable as it is made with 100% nylon pile material. It was handmade by artistic artisans that ensured tight weaving of the fibers, resulting into a fluffy rug that is not easy to shed. It is also fade-resistant and very easy to wash and clean.
---
This product was recommended by Sarah Ross from CocoLoan
With the Sofia Collection's French-inspired patterns, you can turn any area into a travel destination. Vibrant colors burst thanks to overdyed threads, which capture all the oomph of the high-octane setting. My rug is just gorgeous! It appears to be just as described. It's quite thin, but it's extremely soft! This rug, on the other hand, is stunning in terms of design. It's fantastic. It's big and heavy, with a nice lining on the bottom to keep it in place. The fading is fantastic. It looks exactly like the photo. It appears to me that it would be more expensive than what I spent for it.
---
This product was recommended by Mike Baldicana from TrekRoofing
ZHUAN Modern Artificial Rabbit Fur Long Hair Encryption Living Room Shaggy Carpet Bedroom Fluffy Carpet Tea Table Sofa Baby Environmentally Friendly Rug Water-Absorbent Bathroom Door Mat is made of polyester fiber material which made for comfortable hand feeling, soft skin, safe and odorless. This is a very nice shaggy children's bedroom rug, perfect for your kid's room. It looks beautiful and this rug is the best option. Also suitable for home decoration, living room rugs, area rugs, nursery for baby crawling and yoga mat.
---
This product was recommended by Stella Cooper from PaydayLoansUK
Equine handicraft boho rugs are perfect for living and dining spaces. This grass rug is made of natural fibers to create a gentle, cozy feeling in your room. Its tan color and nicely crafted design looks graceful and blend well with any style and paint of the space. Rug's high-quality fiber is 100% natural and weaved with passion and care by craftspeople of Vietnam. With proper care, it can last for many years.
---
This product was recommended by Bonnie Fisher from Better World Apparel
Ruggable is our favorite choice for machine-washable rugs. These are made-to-order to minimize waste using water-based dyes and they're not treated with harsh chemicals. There are hundreds of styles and sizes to choose from, ranging from bohemian chic to geometric patterns. Ruggable gives back to causes including One Tree Planted, the Best Friends Animal Society, and Baby2Baby.
---
This product was recommended by Bonnie Fisher from Better World Apparel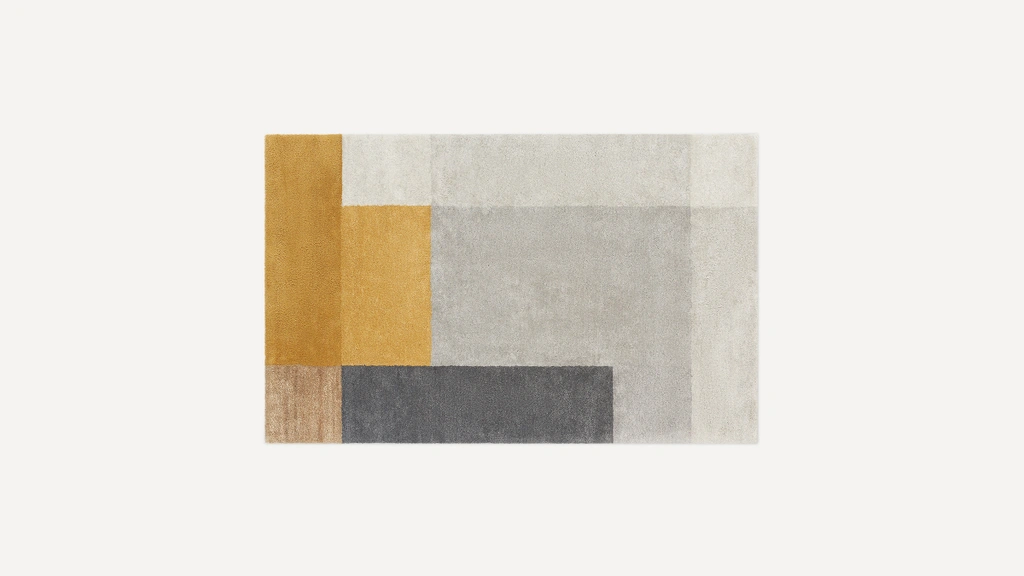 Burrow uses natural and recycled materials to confectionate ultra-plush, low-pile, and pet-friendly rugs. The artsy Block Party rug joins Mondrian inspired design with performance, being stain-resistant as it is produced with recycled polyester. Burrow sources production at weaving houses in India to ensure traditional techniques and ethically sourced materials.
---