This article showcases our top picks for the
Best Environmentally Friendly Soap
. We reached out to industry leaders and experts who have contributed the suggestions within this article (they have been credited for their contributions below). We are keen to hear your feedback on all of our content and our comment section is a moderated space to express your thoughts and feelings related (or not) to this article 
This list is in no particular order.
This product was recommended by Dr.Tusk from Drtusk
In the scents of Roses, Sage, Lavender, Sandalwood and Cedarwood with the exfoliation bars from Dr.Tusk, the nourishing extracts blend in a fusion of the extraordinarily exfoliating caffeine, the moisturizing Aloe Vera and the soothing Hemp Seed. With its line, Dr.Tusk allows to endow a sense of self-esteem through the eco-conscious accomplishment with an ethical mission that made the brand loom by making the user shop from and support local farmers, help charities to save the elephants, and contribute to fair-trade and ​ethical sustainable practices leaving each one feeling invigorated.
---
This product was recommended by Tim Connon from ParamountQuote Insurance Advisors
Most soap is low quality from the store but these soaps are made from natural ingredients and good for you skin and the environment.
---
This product was recommended by Camden Benoit from Sustainably Off-Grid
I highly, highly recommend Dr. Bronner's Pure-Castile Liquid Soap. It can be found on Amazon as well as in most local grocery and home stores. This soap can be used on literally everything. I use it to wash my body, hair, house, and even my dog! The fact that it can be repurposed just adds to the benefits of this soap. Without buying multiple products, Dr. Bronner's soap can keep me as well as my house clean. The soap comes in bulk with instructions on how to dilute it when using it for specific purposes. Finally, it also smells great. It comes in a few options for scents, but lavender is my top pick!
---
This product was recommended by Kevin Nguyen from KevinNguyenExperiences
Ethique is a leader in environmentally friendly and sustainable personal care products. Other than the typical packaging being completely compostable, a single bar of Ethique equates to three leading-brand anti-dandruff shampoo bottles! How is this possible? Typical shampoo brands add easily up to 70% of water in their shampoo causing plastic waste with their packaging and using up precious fresh water. Ethiques' soap has less than 1% of water, making it super concentrated and only needing to use a little bit of soap for the same effectiveness.
---
This product was recommended by Kevin Nguyen from KevinNguyenExperiences
When you look at the ingredients in soap, most of it is indistinguishable chemical names. Method's Bar Soap focuses on being as transparent as possible in the ingredients they use with minimal impact on the environment. Not only sourcing their ingredients from responsible, certified sources, they've mitigated their impact at their factory by installing wind turbines, green roofs, and solar tracking trees to have a net zero impact on their production line.
---
This product was recommended by Will Tigerton from LeanBack Player
This soap collection includes an energizing, exfoliating, moisturizing, cleansing, soothing, and sensitive soaps. They are all made with cold-pressed oils and are all-natural soaps. They are paraben-free, sulfate-free, and are good for all skin types. These were also done cruelty-free. These soaps are made with Rosemary and Peppermint, Oatmeal and Coffee, Coconut and Shea Butter, Argon and Lavender, Jojoba and Tea tree, and Agave Nectar and Soy Milk.
---
This product was recommended by Max Shak from SurvivalGearShack
In addition to using organic coconut, olive and sunflower seed oils, Bath Culture's Mind and Body Wash is packaged in 100-percent recycled bottles. What's better? By offering refills, Bathing Culture eliminates the need to purchase additional packaging. don't have to buy more packaging. don't have to buy more packaging. Plus, the eco-friendly soap doesn't just clean. According to the maker, the soap will make you feel like you've just jumped into a cold river. We like that idea.
---
This product was recommended by Max Shak from SurvivalGearShack
With its tried and true formula, Dr. Bronner's Pure Castile Soap needs no introduction. A five-year-old could understand the ingredient list of the castile mixture, which can be used on body, hair, dishes, and laundry. This product is available in a range of scents, so you can choose the one that appeals to you most.
---
This product was recommended by Max Shak from SurvivalGearShack
SallyeAnder's bar contains aromatic ingredients that are easy on the environment and help keep biting insects away. The bar, which contains essential oils including mint, cedar and lemongrass, repels black flies, mosquitoes and ticks for up to two hours after washing. To keep your head clear and clean, you can use it as a shampoo.
---
This product was recommended by Stella Cooper from PaydayLoansUK
Give yourself a pampering bath session with this gentle and effective O Naturals vegan soap. The therapeutic ingredients of the soap provide nourishment, soothing effects and make the skin flawless. This soap is suitable for both male and female use. The O natural vegan soap is made of natural ingredients and infused with essential oil. This aromatic organic bar restores your natural beauty, reduces fine lines, wrinkles, and moisturizes your skin and body.
---
This product was recommended by Madilyn Hill from TruePersonFinder Inc.
This Natural exotic soap provides nourishment to your skin. It is finely crafted with organic ingredients and naturally processed with a cold-press method to restrain valuable components. This Bali soap's natural glycerine bars come in exotic scents of lemon, papaya, coconut, jasmine, lemongrass, and vanilla. This natural soap bar cleans, exfoliates, hydrates, and moisturizes your skin amazingly. This soap is made in Indonesia & their island botanical ingredients nourish and even promote a natural glow.
---
This product was recommended by Kimberly Silva from FindPeopleFirst
It's an all-natural bar soap made with only plant and mineral ingredients. This means that there are no harsh chemicals in this formula to strip the skin of natural oils and leave it feeling dry, and it has no cancer-causing elements. The soap's production process is committed to environmentally friendly and ethical practices, as the soap is vegan and is never tested on animals. Additionally, the soap wrapper is made from recycled materials, which is one of the many reasons this brand has been ECOLOGO certified for its environmental commitment.
---
This product was recommended by Dave Cimon from Costumes Heaven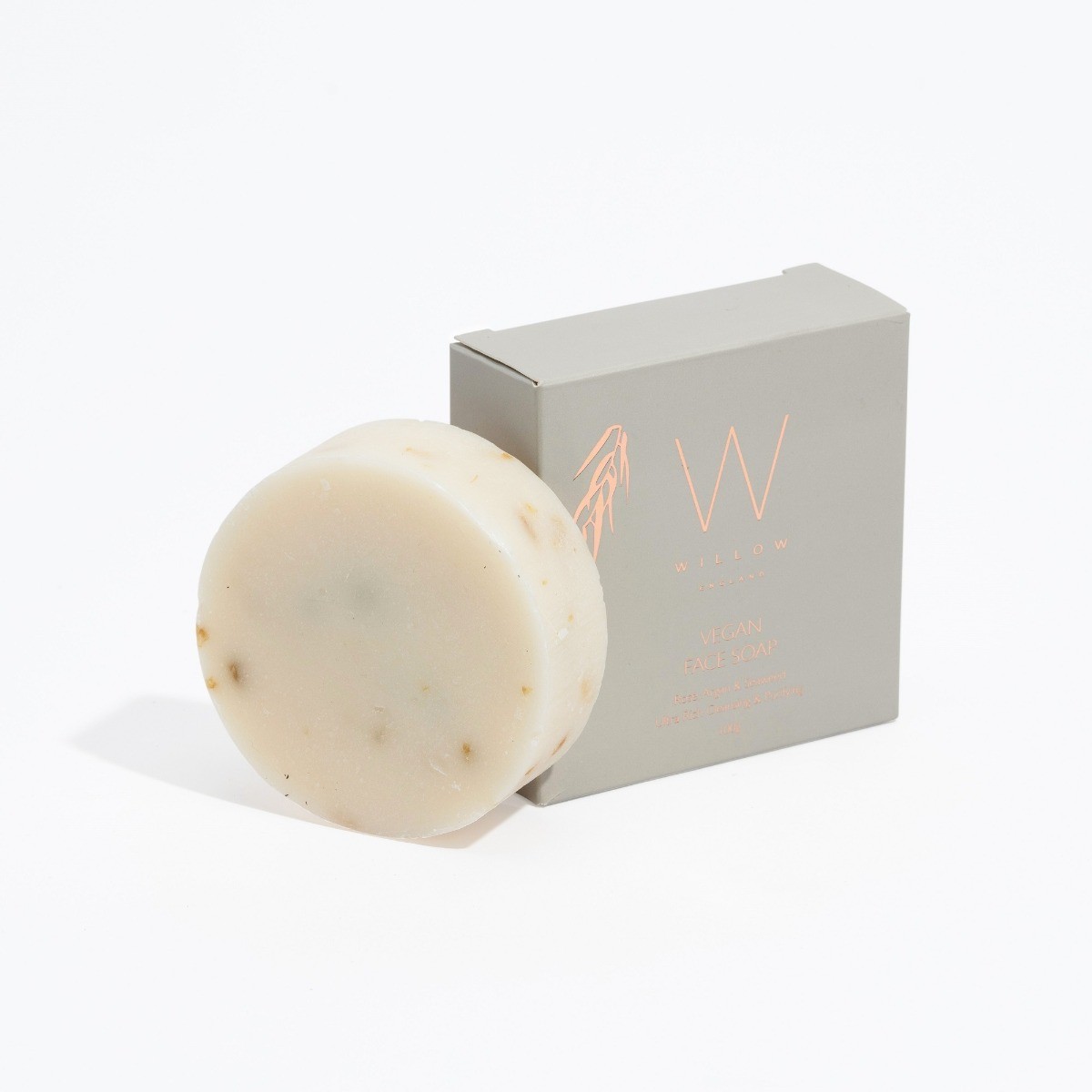 Willow does not contain parabens or any other harmful chemicals that'd affect a person's body with an allergy. With experience in using this, I can tell you that Willow has helped me stay refreshed with its use of Rose Oil. It has also kept me hydrated during summers with Argan Oil as its essential component, and finally, reduced inflammation any time I stayed in places that I was allergic to. Plus, it is environmentally friendly with no use of plastics, microbeads, palm-oil, or sulfates in its manufacture.
---
This product was recommended by Steven Walker from Spylix
This soap bar contains USDA-certified organic safflower, sunflower, coconut palm fruit oils, and shea butter, leaving your skin clean and nourished. The palm fruit oil is Roundtable on Sustainable Palm Oil (RSPO) certified sustainable. Shea butter has natural compounds that help balance the oils on your skin. It also contains vitamins A, D, E, and F and antioxidants that stimulate circulation and good skin cell formation. Other ingredients include rosemary extract and sodium hydroxide, a high-pH substance that aids in the removal of dead skin cells.
---
This product was recommended by Steven Walker from Spylix
There are only nine simple ingredients, plus water. This soap is EWG Verified because each component received the highest rating of 1 from EWG. This soap is created with a vegetable basis and cruelty-free goat milk in the United States. Goat's milk contains vitamin A, C, E, various B vitamins, amino acids, and natural enzymes to nourish the skin. It also contains alpha-hydroxy acids, which aid in removing dead skin. Antioxidant peptides are also generated during goat milk fermentation.
---
This product was recommended by Steven Walker from Spylix
This palm-free, glycerin-based soap is EWG Verified and contains natural ingredients such as witch hazel leaf extract, sunflower seed oil, coconut oil, and green tea leaf extract. Its key selling point is the Binchotan charcoal powder, which is said to purify and absorb pollutants from the skin without drying it out. In general, charcoal has been added to soaps due to its wide surface area, allowing it to absorb toxins while theoretically attaching to dirt and oil on the skin to help clear out pores. The soap is also Leaping Bunny approved and vegan.
---
This product was recommended by Anastasia Allmon from FRP Legal
Faith in Nature has fast become one of my favorite brands of environmentally and ethically made soap – it comes in both a solid bar and a liquid soap and they all smell fantastic and leave my skin – and my morals – feeling great.
---
This product was recommended by Megan Moore from Photography-Lighting
With its recycled bottle and beautiful scent, this environmentally friendly soap has such a soft texture on your hands. Its main ingredient is coconut oil which is known for its softening properties, and the lack of unnecessary chemicals or synthetic preservatives will reduce the risk of drying skin.
---
This product was recommended by Sarah Ross from CocoLoan
This is wonderful for public bathroom that don't have hand soap. Just whip out one of these leaves and you've got what you need to clean your hands well. This case is very small and light, so it takes up very little room in your purse or pocket. I much prefer these soap leaves to liquid hand sanitizer.
---
This product was recommended by Anupama Singh from Fabulously
We love this environmentally friendly soap because it is made with natural ingredients, helping you energize, moisture, and hydrate. The ingredients in this soap contain honey, shea butter, peppermint, sea sennel, coconut, and volcanic rock. Here's a fun fact, if you buy this soap, you will be able to remove 2 bottles of plastic. The manufacturer uses at least 50% recycled plastic for packaging and 90% carton in a carbon-neutral facility.
---
This product was recommended by Michael Jan Baldicana from bidetsPLUS
In the world of soap, Dr. Bronner's Pure Castile Soap is the best seller. This soap is made from natural ingredients and has a unique scent that makes it stand out from other soaps on the market. This soap also has a unique formula that makes it so you don't have to worry about any parabens and other potentially harmful chemicals found in other soaps. This soap smells amazing, doesn't leave your skin feeling dry, and even helps to reduce stretch marks. The soap has a distinctive, fresh scent and its creamy texture makes it ideal for use on all skin types.
---