Product Review: Ecoegg Bamboo Reusable Kitchen Towels
Save money and reduce waste with these reusable bamboo kitchen towels which will replace paper towels in your home. They are strong and absorbent, can be used wet or dry and can be washed in the washing machine ready for you to use again. Perfect for spills, messes, dusting and drying they last up to 85 washes and are made from sustainable, organic bamboo which is great for the environment.
Bamboo Kitchen Roll Review:
I was given two bamboo kitchen roll towels to try out and I've been delighted with them. I had been using recycled paper towels and although very environmentally friendly I found them quite flimsy and I really didn't like to use them to dry my hands, as they didn't have the absorbency I wanted. These Ecoegg bamboo rolls from my point of view are just perfect and I really like their slightly rough feel – you can't use them dry, but once a bit damp they absorb pretty much everything from any size kitchen spill or spillage down the side of my cooker, they dry my hands well and are big enough to do the job. As they are bamboo they are very environmentally friendly, as well as being very absorbent so they do the job I need them to do well.
Wash and Care Instructions – Machine Wash using warm water and liquid washing soda or a natural soap. Do not use bleach. Line Dry, Do not tumble dry.
Obviously, to be environmentally friendly they are 100% biodegradable and can be flushed down a toilet safely or, once they've lasted in use for six months they can simply be composted.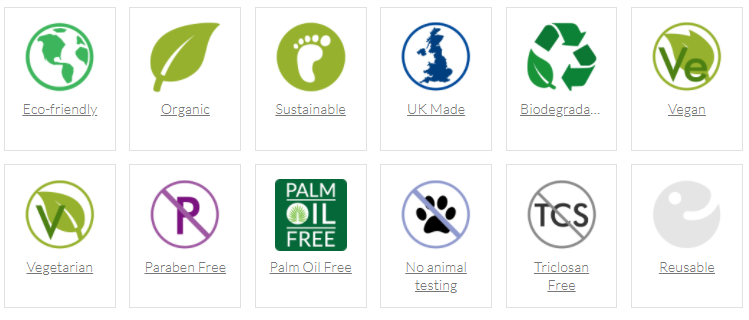 They also offer a loyalty scheme, buy 3 get one free or buy 5 get two free so they are definitely worth considering for your kitchen. The only thing I would say that isn't great is that they are quite expensive so I dread to think what the alternatives are, but really if you're not going to use something because it is biodegradable and natural then where do you draw the line? There are so many products out there that are harmful to the environment, I can really only see this as being a positive step for me. I feel strongly about this as I don't want to use anything synthetic at all in my house and this ticks every box.
I really like these. They look great, they have a kind of natural roughness to them that is very appealing to me and they absolutely absorb everything I want them to. It took me a bit of getting used to using them damp but I really love them now, and to know that they're good for the environment as well makes me want to use them even more.
I have to say I am extremely impressed by these and I highly recommend them.
Smart Idea Coffee Cup Lids; Alternative to Plastic Lids from Pastiche:
Every time we go out for a coffee or drink, inevitably we come back with some sort of takeaway cup with lid. It always seems to be a hot drink and no matter how careful you are you always seem to get burnt by hot liquid when drinking from takeaway cups. We've all seen the various alternatives like metal cups or glasses, but one of the biggest concerns with reusable cups is the cleanliness of them – who knows how many people have been using those before you? Well you could use a plastic lid specifically designed for usability and hygiene. Well Smart Idea Lids from Pastiche are the answer to that problem!
Ecoegg Bamboo Reusable Kitchen Towels Review:
I received these lids from Pastiche and found them to be a much better alternative to plastic lids. The lids are not heated or stored in hot water so they are clean and safe to use every time you take a drink with them. All of the potential hygiene issues around the heating and storing of plastic lids are therefore eliminated. The lids themselves are made from a flexible rubber material and are cut with a hole for drinking. You simply line the lids up with your cup and stick it on. Cover your lid with your saucer and you're good to go! Pretty simple really. They were easy to use and I like the fact that I can drink from my takeaway cup without spilling hot coffee and burning my mouth.
The two main advantages are 1. They are 100% reusable 2. They are safe for all types of hot drinks. You can see from the image what the lid looks like when attached to a hot drink.
They are great for on the go either in your cup or in a travel mug.
My only criticism is that although they do states that they are reusable you have to be incredibly careful – you really need to keep these away from curious small children and it's not something that you want to throw in the washing machine. You also have to be very careful what you stick on them – they go on top of your cup quite easily but you have to make sure that the bottom rim of the cut out fits on top of your cup or else it will fall off. They also fit together well, but if you press them too hard they will snap, but if you're careful with them they are extremely useful. They are also extremely thin so its easy to carry them around with you wherever you go. They definitely prevent you from getting burnt when you close a cup and if you maintain them carefully (and use them indoors or away from children) they shouldn't need replacing too often. They are hard to find in shops so it's always good to have a back up stock at home. There are only two sizes but whether you're a man or a woman they should work just fine. I found they worked fine with hot drinks – I tried tea and coffee with these and it kept my drink hot for as long as I needed it.
I wouldn't recommend these for washing up or cleaning up as they aren't particularly strong. They also have to be stored somewhere sensible as you don't want them to be somewhere easily accessible to children or worse to animals!
Personally, I think this is a great alternative to the plastic lids we usually have on takeaway cups. I think they're a great idea, but as I've said you have to be careful with them. I would much be buying extra spares to have in stock at home just in case something happens to my current ones. I like the fact that you can take your drink anywhere you want without worrying about hot liquid or spills. Plastic is not an option for me in a hot drink scenario and I am really pleased to be using forms of environmentally safe products.
I'm really glad I found these lids and I would recommend them if you're in the habit of taking hot drinks there and then to be used later. I found once I understood the correct way to use them I really liked them – they are 100% reusable so I see them as a good way of reducing the use of plastics when going for a drink out – they certainly have more than come in handy in the last few weeks as the weather has been so hot.